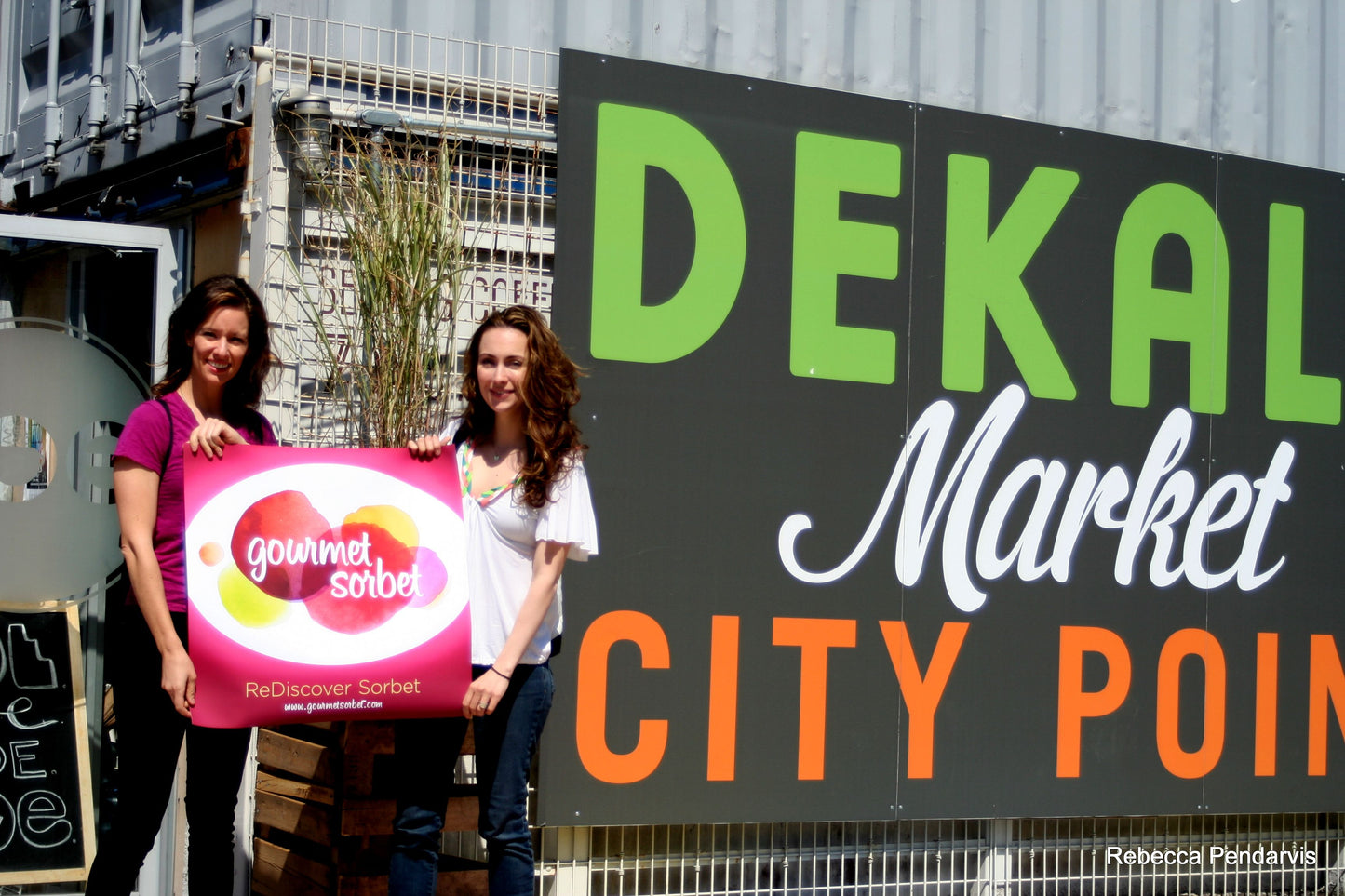 The story of our small brand starts in an unlikely way - back in 2012 in NYC, in a 20 sq. ft. kitchen.
It's a journey full of more ups and downs, rejection, sweat, and (literal) tears than we can count. It also involves some overripe peaches, not understanding how Yelp works (we'll explain), a healthy dash of girl power (always!) and a seriously sweet ride we wouldn't trade for anything.
Join us for a little stroll through the story of how SorBabes got its start.

In the early 2000s during the recession, Nicole Cardone was working in finance on Wall Street but she knew it wasn't truly fueling her soul. Deborah Gorman -- a professionally trained chef who'd worked in some of the best restaurants in the country, was cooking as a private chef in the homes of the rich and famous, 

A food lover to her core, Nicole would hit up local farmer's markets right as they were closing and schlep home giant garbage bags of juicy overripe fruit that hadn't sold that day (score!) In her tiny NYC apartment (tiny!) she'd whip fresh peaches into delicious homemade sorbets, folding in cookie crumbles, spicy cinnamon, candied nuts, and rich chocolate sauce. 

Her DIY recipes were a hit with friends and family, but she noticed it was impossible to find any sorbets as decadent or interesting on grocery store shelves... Why was it that the ice cream aisle got all the love but sorbet - the oldest frozen dessert in history  - was stuck in the 80s with the same old lemon, raspberry, and mango flavors? You can probably guess where this was headed...

Knowing Nicole had the passion for food and the entrepreneurial itch, her mother in law introduced Nicole to the missing piece of the puzzle - Deborah! We had never met but quickly felt like peas in a pod and immediately realized that with Deborah's deep knowledge of food science and culinary arts, we were the perfect match.




We dove right in; experimenting with nuts and fresh fruit, pushing the envelope on what sorbet could be, with wild flavors like cucumber white wine mint or chai sorbet with chunks of coconut macaroons infused with coconut milk and chai.
From the beginning, our sorbets were non dairy (as sorbet traditionally is) to let the maximum flavor from the fruits and nuts shine through. We began selling our creations at the farmer's market and the long lines told us it was time to take things to the next level.
"Having a partner you meld well with and being able to pull each other up and bounce ideas off of each other – it's been a key to our success in many ways," Nicole says. "I can't imagine doing this alone!"

Deborah even enrolled in the University of Ice Cream (yes, it's a thing!) to perfect her craft! "I was more into it than my college classes" says Deborah.




After our kids went to sleep, our nannies and family would help tape handmade labels onto each mason jar. And we'd pull late nights, testing recipes in a shared space in the back of an ice cream shop where the dudes at the front started jokingly referring to us as "the SorBabes."

At first we were like "we don't want that connotation" says Nicole, but we realized we had an opportunity to redefine the term and embody what it means to be a confident, 21st century babe. "It's a gender neutral term to us," says Deborah - "a term of endearment for anyone who exudes a joyful confidence in their own skin." 

After more success at the farmer's market and positive reviews pouring in on Yelp ("Yelp actually had to call and tell us 'hey you guys should really verify your account!' - we didn't even realize we were on Yelp!" laughs Deborah) momentum started to pick up. We found a distributor to work with and co-packers and SorBabes started being sold at small specialty stores around NYC. We were off to the races. 

Nowadays, our (still-small!) women owned brand is on shelves in South Texas at H-E-B, in Whole Foods and soon to be Costco in the Pacific Northwest, and online with nationwide shipping. We've come a long way, but in many ways are still just getting started. 

"We still always feel really small compared to the major corporations we're on the shelves with," says Nicole. We're always pushing ourselves to get creative, and sometimes we have to rely on our grit and scrappiness when things are incredibly tough. Like during the pandemic when our brand nearly didn't make it and underwent a major pivot and rebrand, scaling down strategically to weather the challenges of 2020-2021.


We don't have world domination yet (we're working on it!) but every time that we can add a little joy to someone's life with our sorbet or remind you that you're worth the indulgent treat (life's too short to diet or feel guilt!) we're living our dream.

SorBabes is here to prove what the little brands can do. And that we can do it in our own way, with kids in tow, doing things in ways we feel proud of, and when we don't "look the part" of a "traditional" CEO.

We hope our story inspires you to chase your own wild goals and dreams, dessert like a mother, and maybe even have seconds.