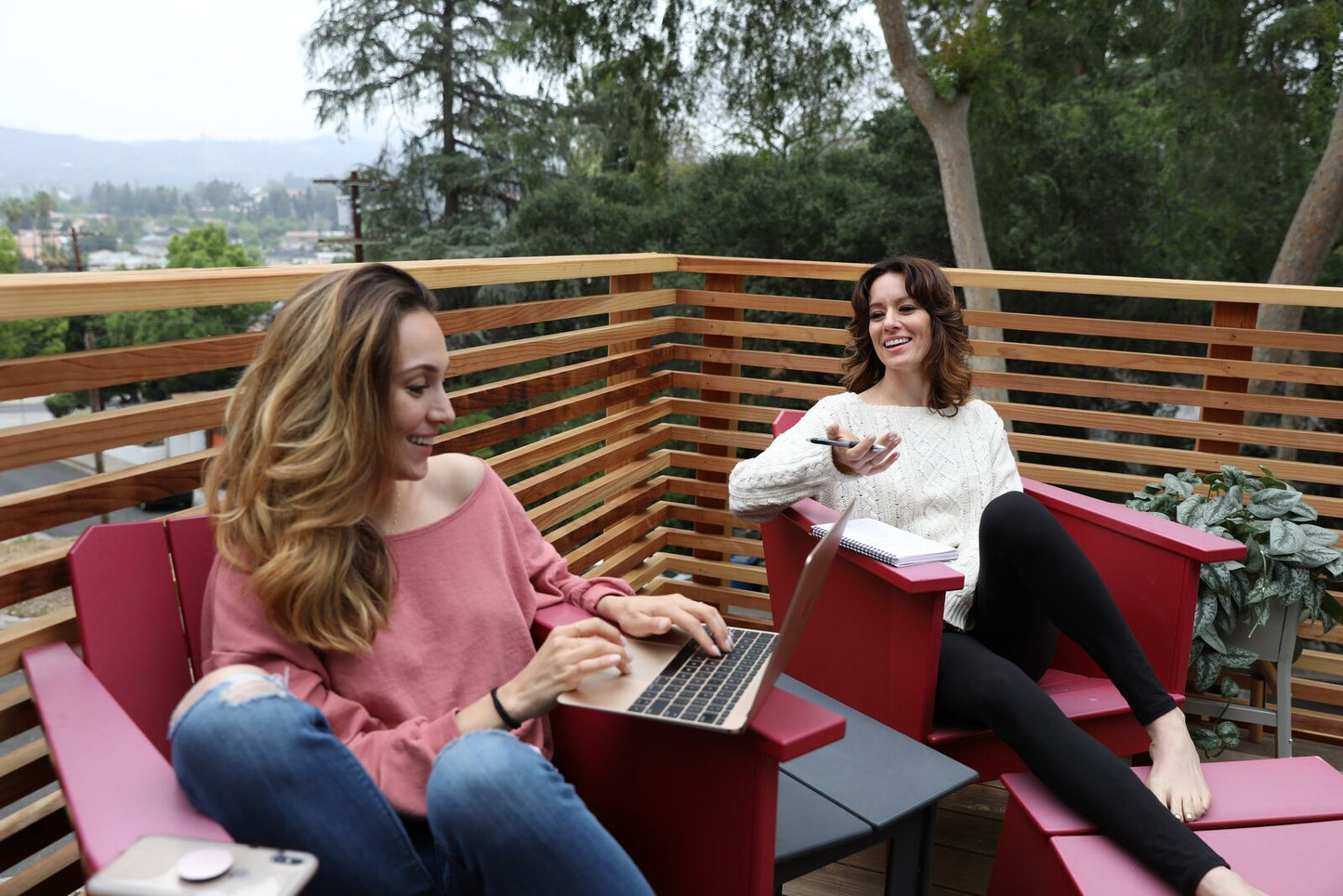 Our best-selling first flavor was what!? Deborah has a secret talent at doing what backward!? We're so proud to be a small woman owned and operated brand and what fills our cups is not only crafting indulgent frozen fruit pops you can feel good about eating, but also sharing who are we, as the humans behind the brand. 
In a world of giant coporations dominating the grocery store shelves, we're so proud to be a brand still run by our two founders (our team is only a total of 5 people, including a family member!) We know how important it is for us to get to connect with and know the human beings behind the brands we buy, and we assume you feel the same. So we jump at the chance to share our story with you -- what we stand for, how we got here, and who we are as people, which always come first before business.  
It's been a wild ride these past ten years. We can find ourselves so busy with the day to day operations of creating flavors, selling to retailers, shipping orders, and everything else that goes into running a small brand, sometimes we forget to stop and share who we are, as the two moms behind the pops.
So come along as we share some surprising (or are they?) tidbits and facts about Nicole and Deborah, the two original SorBabes.
1. Our First Flavors Were Pretty Wild

You know us now for our indulgent frozen fruit pops, but we got our start with makes of scoopable sorbet. Nicole purchased a discount bag of overripe peaches from the farmer's market one day and took it home, mixing and freezing it into a juicy, lucious sorbet -- our very first flavor! From there, she connected with Chef Deborah who used her culinary background to create innovative flavors like cucumber white wine mint, which became our best seller (folks at the farmer's market would line up to buy it!) and coconut macaroon chai.
We wanted to bring something to a grocery store that no one could imagine, says Deborah. We've always listened to our customers when creating our products, and our decision to change up our flavor lines many times over the years and pivot from pints to pops was 100% informed by consumer reactions. 
2. We Didn't Come up with Our Name, and Weren't Sure About it at First


During the early days of SorBabes, Nicole and Deborah were renting out space in the back of an ice cream shop after hours, to test and create their sorbet. The ice cream shop guys they shared a space with started jokingly referring to them as "the SorBabes." At first, the two balked at the term and rejected the idea of being called a "babe," which has often been used as a objectifying, dereogetory term for women. They warmed up to the idea though after realizing they had a chance to redefine and reclaim the term, and show what a badass, empowered babe can be. As they say, the rest is history!
3. Nicole's Background Couldn't Have Been Further from What She Does Now

Born in Alaska and always dreaming of living in "the lower 48", Nicole went to college and studied finance, then landed a job as an investment banker on Wall Street. The job never filled her soul though and she dreamed of doing something in the food space. When she found herself jobless during the recession of 2008, she started making sorbet at home as a creative outlet and realized she could totally make a business out of it.
4. Deborah's Secret Talents Outside of the Kitchen

Deborah is an excellent slolomn water skiier and has mastered the backward standing dock start (badass!) Her outdoorsy adventerous spirit extends beyond the water, and in the winter you'll often find her on the ski slopes with her family. True story: on her last trip, she experimented making "sorbet" out of freshly fallen snow, so no matter where she is, she's never far from her culinary roots or her love of creating frozen treats!
5. Our Partnership Was Thanks to a Matchmaker...
We hear so often from other business owners who have had falling outs or struggled with having a business partner. Our situation is unique in that they weren't good friends, or friends at all, prior to launching SorBabes! In fact, they were total strangers. The two consider each other sisters and best friends at this point, but because of the way we started, they've always been able to lean on one another and work together professionally (and they can't imagine ever doing business any other way!)
7. We're Proud to be 100% Bootstrapped
We've consciously chosen to walk away from big deals and investors and we remain 100% founder owned. Meaning Nicole and Deborah, the two women who first started slinging sorbet in NYC ten years ago, are still running their brand, meeting with buyers, creating every single new flavor, and reading every single one of your reviews and comments. This is a rarity in the world of consumer brands, and something we're incredibly proud of.
It hasn't been easy, but we're so proud to have been able to grow our brand in the way that aligns with our values, be able to take your feedback and call the shots creatively, and stay true to who we've been since day one. 
It's Not Always Easy, But We Wouldn't Trade this Journey for Anything
Did any of these facts and stories surprise you? With so many new 'babes to our page, we're always excited to take a break from making frozen fruit bars and take you behind the scenes with us, into some of the pieces of our story and fun facts that make us who we are. 

We haven't had a traditional path and sometimes we still can't believe our little treats we dreamed up in a tiny NYC kitchen are now on major retail shelves with the big guys. We couldn't have made it here at all if not for the support of our friends, families, and all of you, believing in our crazy dream of making indulgent frozen fruit treats better than anything we saw on shelves. 

Let us know know if there are any pieces of our stories or past you'd like us to share more about!