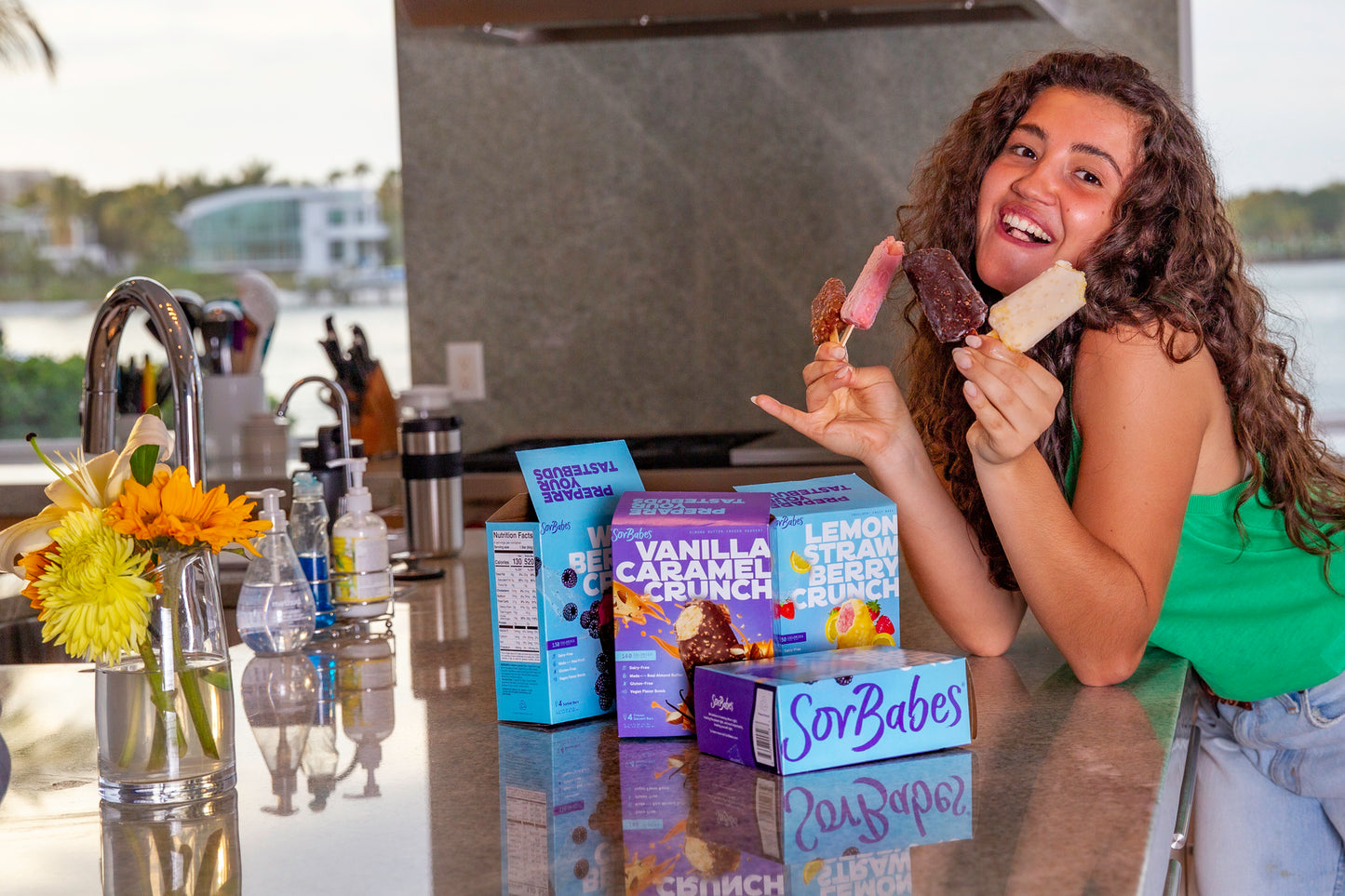 With peak holiday season around the corner, so is the onslaught of sugary, decadent treats and rich foods on the menus. We're proud to be one of the healthier ice cream brand options at the grocery store, because we believe that you should be able to have your delicious desserts -- seconds if you want -- and nourish your body with healthy, plant-based, better-for-you ingredients too. It's nearly 2024 . You shouldn't have to choose between health and indulgence.

We've said it many times before and we'll say it again. There's nothing wrong with indulgance. Full stop. We're always the first to ask for the dessert menu at a restaurant. After all, we started our own dessert brand because we love dessert so much!
But we created popsicle recipes that make healthier, more delicious desserts with all the same creamy richness we all crave. So you can have your cake and eat it too -- enjoying a daily dessert whenever you want, without excess sugar, calories, or artificial ingredients.

Over the years we've made many tweaks and adjustments to our popsicle recipes. Like shortening our ingredient list, being choosier about where we source from, and earning new certifications that ensure good quality. Our promise to you is we'll keep improving and getting better. We've made our frozen fruit bars to taste just like a healthier homemade ice cream we'd feel good about giving our kids, so that you can feel good about giving them to yours (or enjoying them yourself as a big kid, of course!)


We're a Healthier Ice Cream Brand, but Not a Diet Food
While you'll never catch us claiming to be a diet ice cream -- there are plenty of awesome options of those on the market -- we certainly do pride ourselves on being a healthier ice cream brand. Diet ice creams often achieve their low caloric count by infusing their treats with lots of added air, which is why so many diet ice cream pints are light as a feather! Diet ice creams also rely on artificial sweeteners which clock a lower calorie count, but can come with unwanted side effects like digestion woes and stomach aches. We prefer to keep our sweet treats sweet the natural way, just like the homemade ice cream recipes we ate as kids. 
We've all tried the low-cal diet bars and the "just like ice creams!" made from cauliflower, and respectively...we all know it's just not the same. Our frozen fruit bars are indulgent treats to be sure, that satisfy your sweet tooth and ice cream cravings. But we know you can have your ice cream and eat it too, with decadent treats AND better quality ingredients.  
So we said, miss us with that added air thing. We'll make frozen fruit bars packed with real ingredients and fresh fruits, that tastes like real ice cream. 
Here are five changes we've made over the years to our healthier ice cream brand, to make our pops better for you and yours, while keeping the creamy, dreamy consistency our frozen fruit bars are known for.


1. Zero Dairy in our Frozen Fruit Bars
Saying no to dairy was a no-brainer here at SorBabes. Nearly 70% of the population is sensitive to lactose, not to mention the impact it has on our planet and animal welfare. Our core guiding statement is we believe in treating others, ourselves, and animals right. Cutting out dairy just makes sense in every way.
And not only is being a dairy free ice cream in line with our values, it makes our treats more delicious! That's right. When experimenting with recipes, Chef and co-founder Deborah (who knows a thing or two about traditional dairy desserts, and even attended the University of Ice Cream!) quickly realized, the non dairy version was undeniably more delicious. Dairy, or even dairy alternatives, actually block flavor receptors on the tongue!
Cutting the milk out of our treats allows the juicy, fresh fruit flavor to be the star of the show, and we get creaminess and a rich mouthfeel from the creamy, candy-like, chocolate shells of our bars.
2. No Sugar Alcohols
For a treat that tastes and eats like a healthier homemade ice cream, there's no room for anything artificial. So we said nah to sugar alcohols, a common ingredient in many sweet treats, baking mixes, cereals and more. As the name implies, sugar alcohols are mashups of sugar molecules and alcohol molecules which are industrially manufactured in most cases. These lend sweetness to foods. You might best know them by names like erythritol or xylitol.
Though common in many treats on the freezer aisle, sugar alcohols are also known to cause digestive woes in some people, especially those with IBS. So we felt strongly that sugar alcohols have no place in a healthier ice cream brand like ours, and cut 'em! Because simply put, you deserve better, and treats don't need them to be delicious. 
All of our popsicle recipes get their sweetness from 100% pure (vegan certified) cane sugar. We made this swap back in 2021, after hearing your feedback. If you're wondering why our frozen fruit bars aren't sugar-free, this is why! In order to create a sugar-free treat, you have to replace that natural sugar with something, or treats would be icy, bland, and unappealing. So we use the bare minimum of natural cane sugar to make our treats craveable and rich, and nothing else.

P.S. for our vegan friends and 'babes, you likely already know, not all sugar is created equal! Many popsicle recipes use typical, standard white can sugar like you'd find at any grocery store. To go the extra mile in ensuring our frozen fruit bars are completely devoid of animal products, we sourced vegan cane sugar. This means our sweetness comes from sugar that isn't processed using bone char, a common practice in many mainstream sugar brands.
3. Coming Soon…No Corn Fiber


OG fans will notice, we're always changing and improving our popsicle recipes based on your feedback. One such improvement we're thrilled to announce here is that we're removing all corn fiber from our latest iteration. 
This was a request from you, and as we always do, we listened. And agreed! Corn fiber itself is generally regarded as a safe food additive that may even assist with a healthy gut and blood sugar levels. However, some prefer to avoid it altogether, or can experience gas and bloating from it, so we removed it entirely from our treats.
Corn fiber just wasn't something that makes the cut in a healthier ice cream brand's fomula, so she had to go. Our old and some existing pops still on shelves do contain corn fiber, which we ensured was non-GMO. Keep an eye out for this change in new boxes, popping up on shelves near you.
4. Using Only Real Fruit
You know what sure tastes wild? The WILD! We've always looked to Mother Nature for not just inspo, but the actual ingredients we use in our frozen fruit pops. Because simply put, Mother Nature has always done it best.
That's why all our popsicle recipes contain the actual real, recognizable ingredients you'd expect to see from their flavor names. Like real strawberries in Strawberry Crisp. Real juicy mango and coconut pieces in Mango Coconut. Real berries in Wildberry… you get the idea.
This is another reason no two bars are ever exactly the same and why our popsicle recipes have changed many times over the years, based on the availability and freshness of the fruit we source. Real fruit is the basis of all our treats. Real fruit is magic! Real fruit can literally change the world, which is what The Fruit Tree Planting Foundation believes, and why we're so proud to be parterned up to support their incredible mission.
5. No Artificial Colors
We eat not just with our taste buds, but our eyes too! The gorgeous light pink of a strawberry bar, the sunny, tropical creamy yellow of a mango pop, the vibrant, wine-hued berry of a Wildberry treat -- it all contributes to our overall eating experience. Imagine if food was devoid of color! But luckily, Mother Nature again does it best here.
So as a healthier ice cream brand, it's been an obvious choice to never use any artificial colors in any of our popsicle recipes, unlike many of the freezer aisle treats you'll find.
You probably already know the detrimental impacts of artificial colors, but it's worth repeating as they're linked to potential negative health impacts ranging from allergies to hyperactivity in children to potentially even cancer. There's simply no need to take that risk, when the most stunning colors come from ripe, juicy fruits -- not Red 40, Yellow 5, or Yellow 6. See ya never, artificial dyes!


Have a suggestion for a future change you'd like to see in our frozen fruit pops? We'd always love to hear your feedback. Drop us a DM anytime or send us an email at hello@sorbabes.com
---