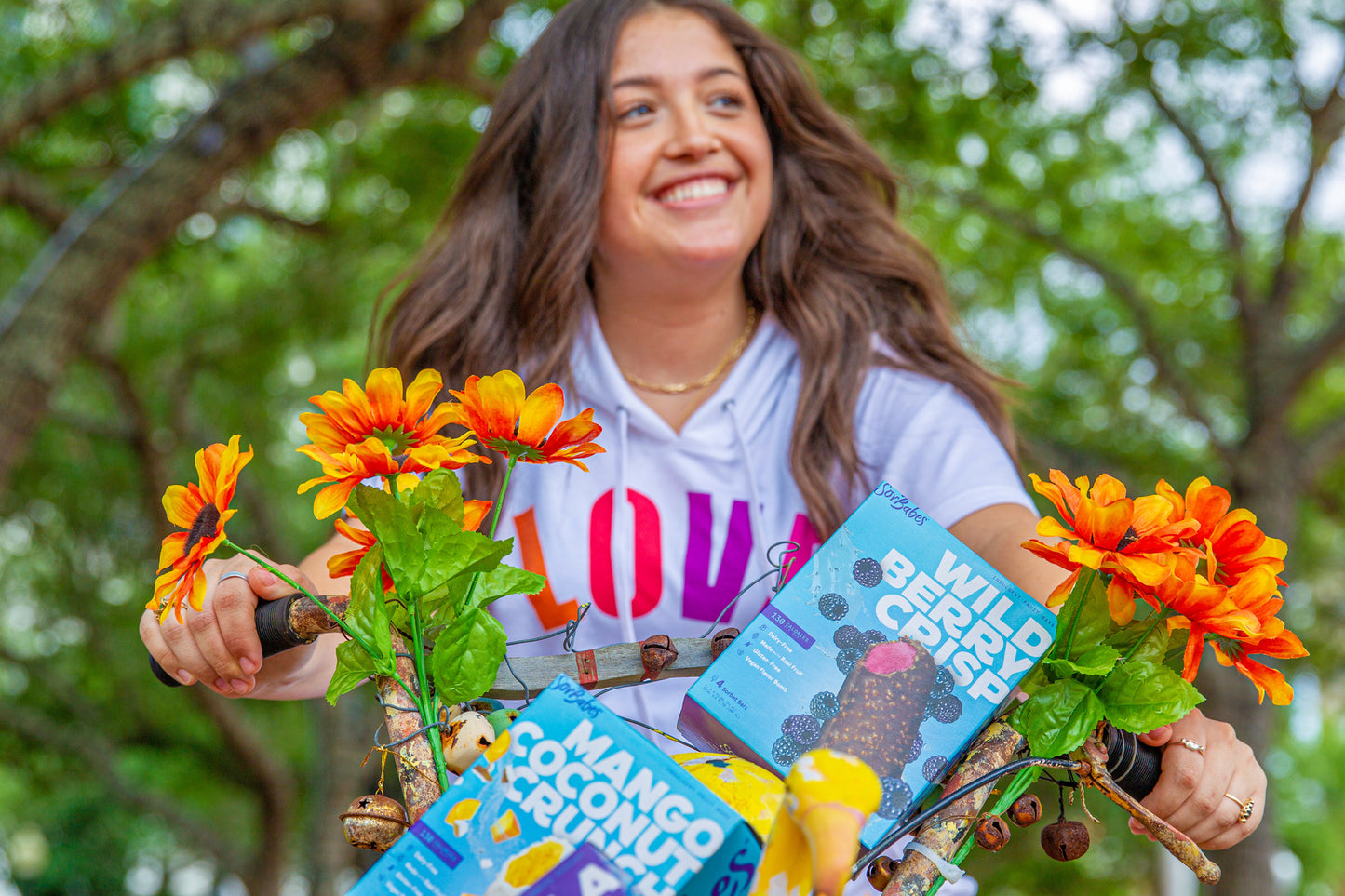 Fall is in the air. While summer may be the obvious time for sorbet to shine, we love a season that celebrates slowing down, getting cozy, staying in, and carving out time for self care.
Sign us up (we'll bring dessert.)

As we all come down from a busy, hot summer, here are five of our favorite ideas of fall-themed self care.
We Always Deserve to Slow Down and Give Ourselves Self Care

There's no season where we don't love slowing down and treating ourselves
We preach it all day year round, and know there's no day where you don't deserve to show yourself some TLC.
It's one of the many reason we pivoted from pints to pops: it's easy to grab a pop out of the freeze mid WFH day, when the kids get home from school for a snack everyone can enjoy, or as you're drawing yourself a bath or doing a skin mask. The few minutes it takes to enjoy a pop is the perfect punch of escape and relaxation anytime you need it.

As the seasons change, our self care should remain a constant. But here are just five of our favorite self care ideas perfect for fall.

1. Have a fall dinner picnic

It's finally not too hot and not yet too cold. The Goldilocks-perfect time for a just-because dinner picnic.
Really, a cute excuse to grab some friends/family, pack up some portable meals like a fall veggie-packed pasta salad or chickpea salad sandwiches, some fruit, chips and hummus, and a drink of choice.
And don't forget dessert! Here's how to easily transport sorbet and keep it frozen, even if you have a long drive or hike to your picnic dinner destination! (This tip even works in the heat of summer - really!)

2. Spooky Movie Night + Snack Board
It's not a fall self care list without including a night of of spooky, creepy movies and snacks. And if not-so scary is more your speed, pick a fall classic flick like When Harry Met Sally, Hocus Pocus (1 or 2!), or Good Will Hunting.
Since no movie is complete without snacks, we love a sweets board (think cheese plate but make it dessert). The awesome @Thebeetdrop put together the board of our dreams and went sweet + savory with SorBabes bars, fruit, cookies, popcorn, marshmallows, and more.
Honestly we wouldn't even care what movie was playing with this on the menu...
3. Cook with the Seasons
We're geeks for fruits and veggies - if you didn't notice. And fall weather brings with it an abundance of newly in-season picks to enjoy, like broccoli, Brussels sprouts, and turnips, as well as beets, squash, and apples, to name a few.
Even some of our star fruits featured in our sorbet peak around now, like passionfruit, which we swirl into our Mango Coconut bars for some bright zing. 
So get in the kitchen, try some recipes with a fruit or veggie that's in its prime now, and take advantage of their peak flavor and freshness.
Is there one in particular you'd like a recipe for or need some tips on? Send us a DM! We're always taking requests for new "Cook like a Chef" topics with chef and co-founder Deborah!

4. Take a Hike or Bike Ride to See the Leaves (Or Enjoy the Cooler Air!)
For many of us, outdoor activities, travel, and other summertime things slow down this time of year, but before it's too cold or grey, get outside! It's the ideal time of year in most parts of the country for a hike, a bike ride, or simply some less-literal hot girl walks. Catch some views of the changing leaves, or just enjoy the crisp air.
And when you need a snack break, we've got you covered.
5. Allow Yourself a Break - Hard Stop
Fall and winter are when our bodies are naturally in hibernation mode, and while the world might not always slow down like we wish it would, the best fall self care you can give yourself is a break! Whether that's a little extra rest if you need it or just a day with nothing at all on the to-do list, or just giving yourself permission to move a little slower with the seasons and not feel bad about it. You deserve to slow down!
Maybe your self care isn't Instagram worthy but as always say, screw the Pinterest pressure. 

Here's to living your healthiest and happiest fall! 
---
← Older post Newer post →