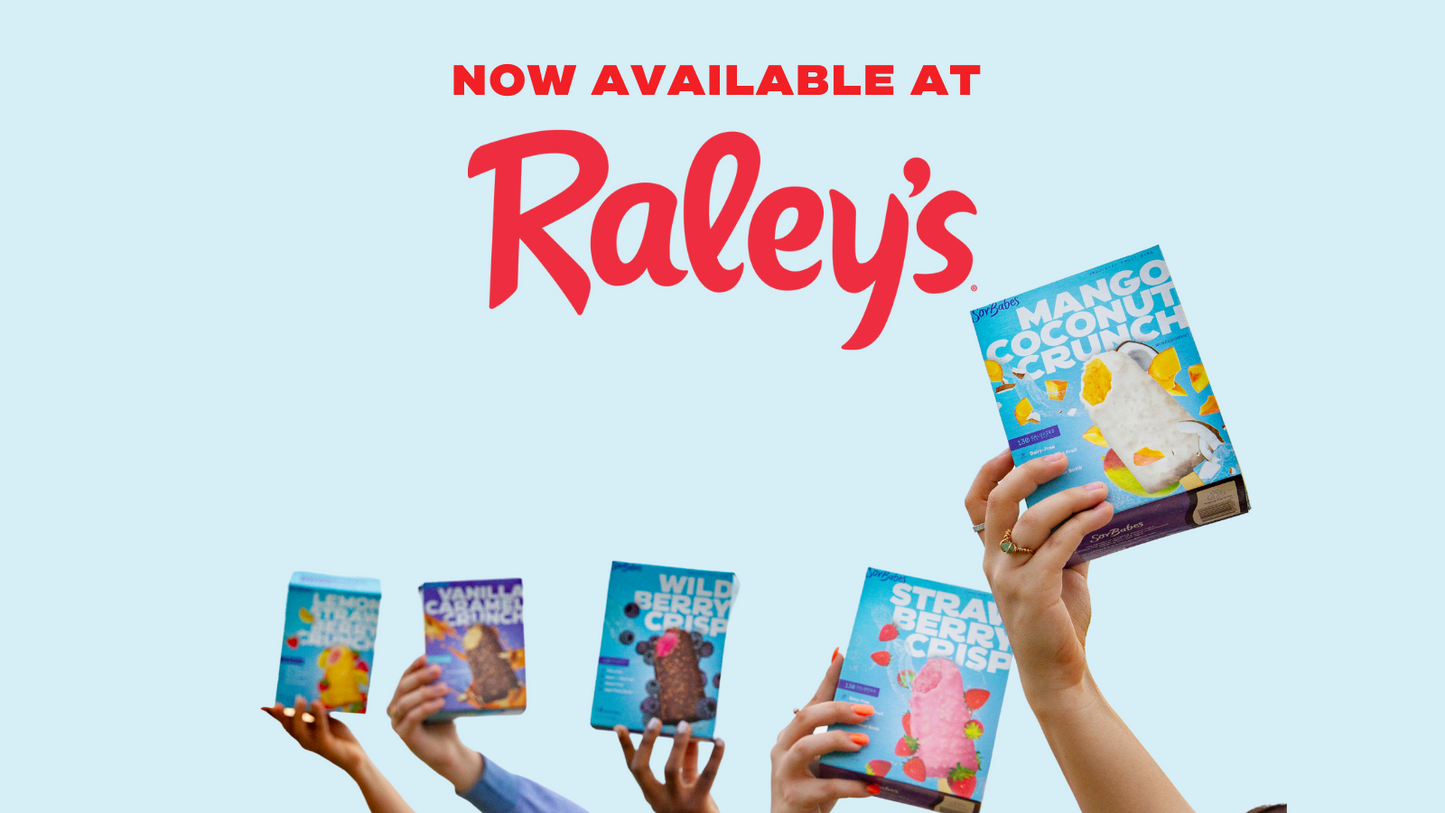 We're *so* excited to share this big news!

After a challenging few years, working round the clock to grow our little brand to new grocery store shelves, we're officially in Cali, baby! We're thrilled to be another option for vegan food in Sacramento and the surrounding areas!

Find our vegan ice cream bars on grocery store shelves in the Bay Area and Central Valley in Raley's, Bel Air, and Nob Hill stores! See all store locations, here.

Tell your vegan Sacramento friends! Those across the Bay Area who love vegan treats, dairy free decadence!  Or any dessert aficionado who loves supporting small, artisanal, woman owned brands. (AKA, pretty much everyone.)

And no need to pick a flavor of our sorbet bars to try - try team fruity and chocolate. Grab a BOGO coupon, here.

When Small Brands get onto New Shelves, it Represents Years of Hard Work Behind the Scenes

The average shopper doesn't realize how intense, time consuming, and competitive the process of getting into new stores truly is for a small brand.

We've gotten used to assuming all of our favorite brands will be at all grocery stores, so it can be frustrating to fall in love with a brand just to struggle to find it. We get it!

It's why we're so outspoken about sharing all the struggles that go into getting grocery store shelf space, for the little guys like us. 

For example, to get onto shelves at Raley's, not only were we up against the other vegan ice cream Sacramento options, we're often the little guy up against the corporate giants. Competition for shelf space in the freezer aisle is intense, and even landing a pitch meeting with a grocer is an uphill battle.
Raley's passed on our products for six years! We didn't take the no to heart - we just knew it wasn't the right time. We put our heads down, kept going, and it finally worked out this year!

So we're extra excited to share this news and be able to share our treats with the Bay Area vegan babes and ice cream lovers in beautiful Northern California! 

This is only phase one of our California expansion. We've heard the demands and all the DMs requesting us in the area. We expect to be sharing more news of additional retailers and store locations across California soon!

Find your nearest store here, and if we're not on shelves in your town just yet, we ship nationwide on dry ice (all orders arrive perfectly frozen at your doorstep, guaranteed - or your money back.)
We ship all our orders in insulated Styrofoam coolers packed with multiple dry ice packs. Dry ice keeps frozen food frozen - far better than regular ice, so your order will arrive perfect frozen on your doorstep in just two days!

Where Else Are We Headed Next?
 
Glad you asked!
While we can't share all the juicy deets just yet, we have big growth plans. We're working on expansion plans specifically across Southern California, the Southwest, and the East Coast! Keep your eye out for new locations we'll be announcing here and on our social media in the coming weeks and months. As always, enter your address in our store locator to find the nearest grocery store that carries us.

Do you want to see SorBabes in your local store? Please request us wherever you shop. When store managers hear there's a demand for a product, they take note! Every request helps. 
Thanks so much for your support, and please help us spread the news that SorBabes is in Northern California Raley's!



---
← Older post Newer post →