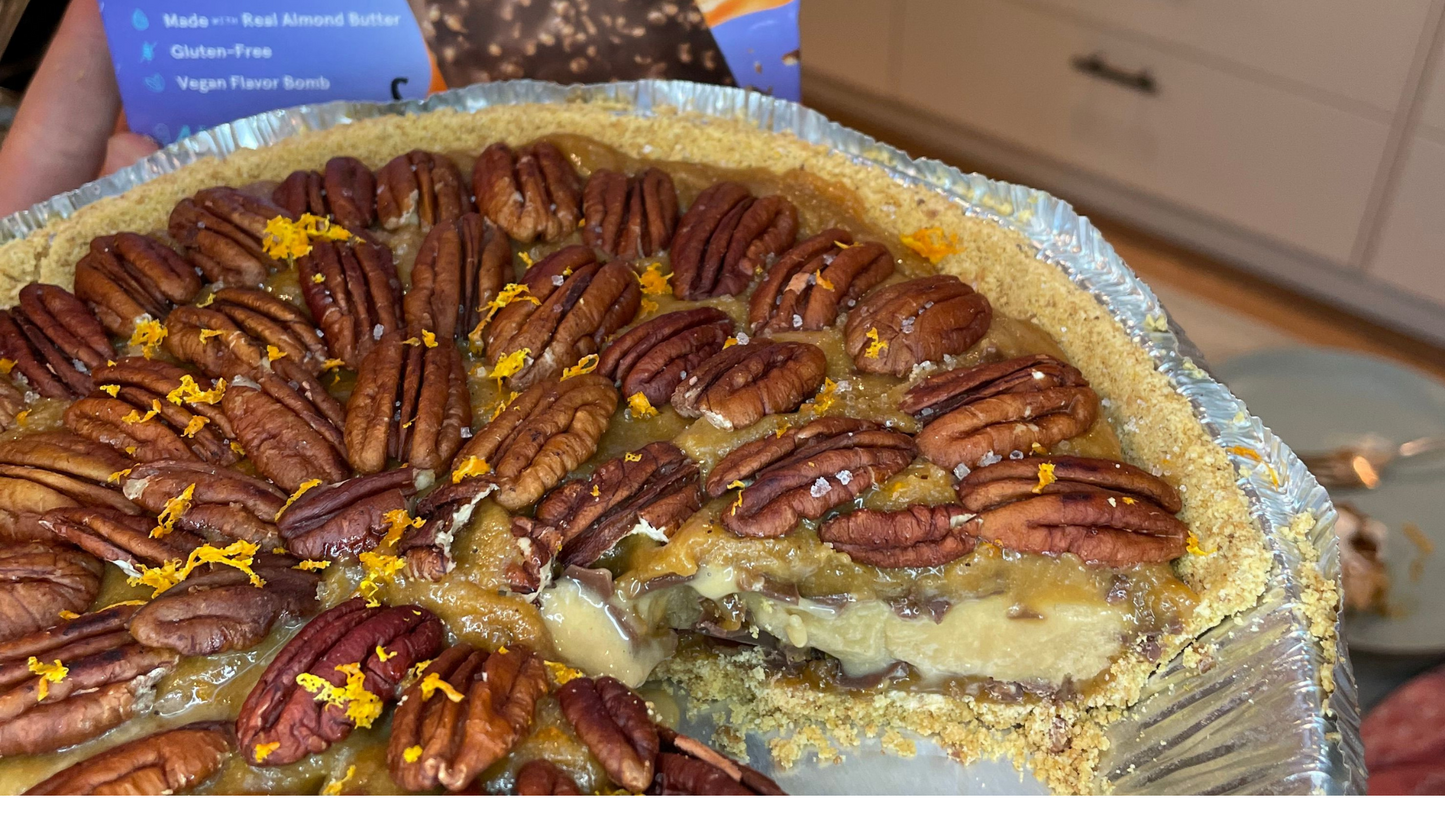 Tis the season! But the season can be overhwleming. And if you're already sick of holiday cookies and worn out just thinking about holiday baking, meet your new BFF; this easy no bake pecan pie using SorBabes Vanilla Caramel Crunch ice cream bars.
Think of this as your favorite ice cream cake from your childhood, with a grown-up, holiday-appropriate twist. This no-bake vegan pie features a base of thick, chewy, velvety Vanilla Caramel ice cream bars and plenty of flaky sea salt, chocolate, and homemade caramel. Win win win.
When poured into a frozen crust, this already-simple no bake pie vegan pecan pie just got even easier. Because everyone knows, the holidays are stressful enoughw without complicated baking projects on your to-do list.





You'll Love This Easy No-Bake Vegan Pecan Pie If:
You love a classic pecan pie for the holiday season but not all the work (and $!) of the ingredients required
You're new to vegan baking and want a foolproof no bake pie to impress your guests (or just yourself!)
You love caramel anything
You love a salty-sweet flavor combination (this no bake pecan pie is the perfect blend thanks to the flaky sea salt and smooth vanilla caramel sorbet)
You don't think it's dessert without a little hit of chocolate (we agree.)

We could go on. This vegan pecan pie is the perfect combo of soft, creamy vanilla caramel sorbet spiked with luxe homemade caramel, plus rich chocolate, toasty pecans, and plenty of flaky sea salt to bring it all together. Top with some dairy free whipped cream and you have truly have the best of all worlds.
There's nothing wrong with a holiday cookie, but we suggest showing up with this in tow for your next holiday get-together if you want to win the party. Just saying.


Make This Ahead-of-Time For Your Holiday Shindigs


Another perk to this no bake pecan pie is because it's no bake and vegan, it's easy to make in advance of any party or holiday gathering. Just prepare, cover, and keep in the freezer until ready to serve.
Whip one up when you find yourself with a little extra time. Future you will thank you when the dessert's already taken care of next time you're running out the door to a holiday party.

Since this is more of an ice cream cake style dessert than a traditional pie, it can be served right out of the freezer (it's best that way!) And thanks to the thick layer of creamy Vanilla Caramel ice cream bars, it's the pie and ice cream all rolled into one. (Stock up on both our rich, chocolately flavors here.)
And if you're feeling extra and wanting to go all out, which we always do, top with whipped cream for some extra richness.


Here's How to Make a Vegan Pecan Pie - SorBabes Style

No need for heavy cane sugars or bougie ingredients here. And as the name gives away, no need to even turn on the oven for this no bake pecan pie . If you've got a million and one other dishes in the oven during your holiday baking, this is simple to whip up while those cook. 

Here's your recipe, straight from former pro-chef and current SorBabes mad scientist, Deborah Gorman: 


For the caramel:
200 grams sugar
200 g coconut cream off the top of a can of coconut cream
50 g vegan butter (like Earth Balance or other preferred brand)
1 tsp vanilla 
A few pinches of salt
Melt the sugar in pan. Start with 1/4 cup then keep adding more sugar until it comes to a medium, almost dark caramel color. Carefully add coconut cream. Once it stops sputtering, stir well until blended using a silicone spatula or wooden spoon. Add butter. Transfer to a heat safe bowl. Once warm but no longer hot add the vanilla and salt. Continue to let cool. 
For the Pie: 
1 graham cracker crust (feel free to use a store bought one)
1 recipe of caramel or 300 grams store bought caramel 
5 Vanilla Caramel SorBabes bars 
25 - 30 pecans, toasted on stovetop
Flaky sea salt
Orange for zesting

Toast your pecans in a pan on the stovetop over medium heat for just a few minutes - careful not to let them burn. You want them to become golden deep brown and fragrant. Remove pecans from pan and let them cool as you make the caramel sauce.
Once your caramel is made and cooled down, add a big spoonful to the bottom of your pie crust. Let that cool and get your 5 SorBabes bar. You'll want to cut them off the sticks at a diagonal (see video) so they can fit in your pie pan like pizza slices, making a circle. Place this in the freezer for a bit now - maybe for 15-20 minutes or until nice and frozen cold.
Remove from freezer and add the reaminder of caramel overtop for your second layer of caramel. Arrange pecans on top. Sprinkle with flaky sea salt and orange zest, if you like. Stick back in freezer and enjoy when you're ready! 
Enjoy!

Have Your Dessert and Eat it Too! Here's How to Win Free Bars

Let us know how you and your holiday party guests loved this no bake pecan pie. Tag us on Instagram @SorBabes and show us your creation!
We'll send a free cooler of Vanilla Caramel bars (4 boxes!) to the pie-maker with the yummiest looking, prettiest pie! Your cooler will arrive on dry ice, on your doorstep, so you have the supplies to keep making this pie all season long. Happy pie-making!
---
← Older post Newer post →