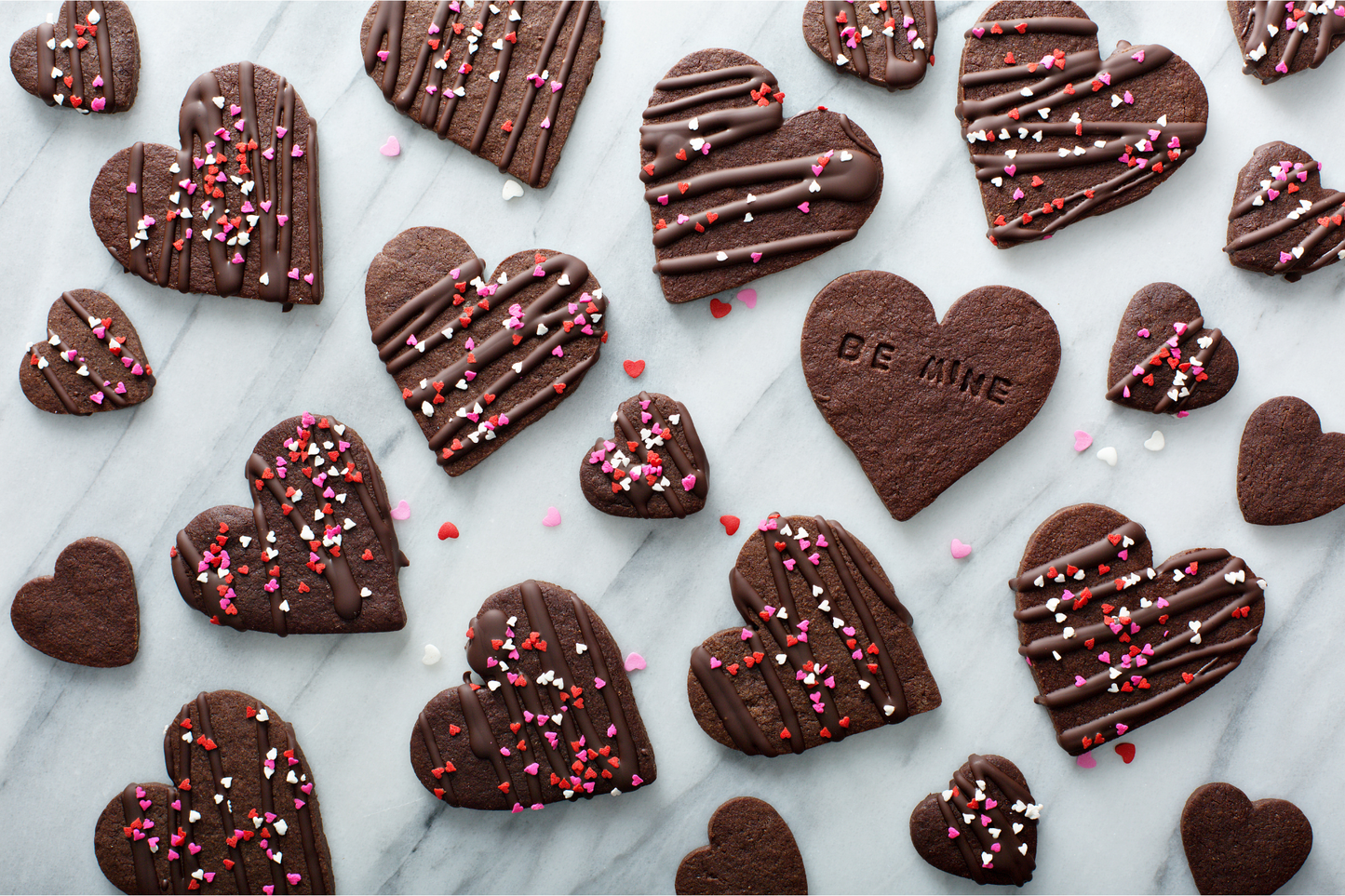 Call us cheesy, but we love any excuse to celebrate a day of sweet treats and love - be it romantic, friendship love, or that oh-so-important self-love.
If you're looking for a vegan Valentine's Day (or Galentine's Day) gift for a loved one or to treat yourself with a little TLC, we've got you covered!

Valentine's Day treats aren't just the milk chocolate heart candies, conversation hearts, or other typically non-vegan friendly candies and chocolate of yesteryear. It's 2023! And there are so many creative and totally plant-based and cruelty free ways to say, "I love you," like these 11 vegan valentines day gifts we're crushing on.

The cherry on top: you can pick up any of these vegan Valentine's day gifts from the comfort of your own couch - all guaranteed to make your loved one's (or your own!) day. 

How We Chose These Vegan Valentine's Day Gifts
Can we get a little commotion for amazing small brands? It's true; we're in a committed love affair with small brands, and we think you should be too! Any holiday is a great opportunity to support small, ethically-made, locally owned brands whenever possible. Each purchase is like sending the sweetest valentine to that small business owner – trust us!

When shopping for your loved one, whether you're scooping up self-care products, chocolate or sweet treats, or jewelry (we've got recommendations for each), whenever possible, shop small, shop woman-owned, shop BIPOC-owned, and send some love to small business owners with your dollars.

11 of Our Favorite Vegan Valentine's Day Gifts You Can Add to Cart Right Now

Self-Care and Beauty
via Axiology
Any beauty or makeup lover in your life will have heart eyes for Axiology's zero waste balmies. These plastic free lip/cheek/eye colors are devoid of the plastic tubes most lip colors come in, saving that plastic from ending up in the landfill. Their colors are gorge, easy to blend, and super pigmented – what's not to love!?
via 100% Pure
A longtime favorite of SorBabes co-founder Nicole, 100% Pure is a 100% vegan, plant-based beauty brand that stands out from the rest, because their products are made with real fruit! Their lipsticks are a must but also grab products for face, hair, body, or one of their ready-made vegan valentine gift bundles.
via Ethique
You might know Ethique for their award winning zero waste shampoo and conditioner bars, which would make an excellent gift on their own, but they also make all natural, vegan bodywashes, deodorant bars, body polishes etc. This kit happens to include heart shaped bars, so it's a no brainer vegan Valentine's day gift. Their products are vegan, plastic free, climate positive, and cruelty free – all the things we love best.
via Strange Women

It's not always easy to find an ethically-made, non-toxic, vegan scent line - but look no further than Strange Women . Treat yourself or a special someone to one of their delicious scents that think outside the traditional feminne scents and are all 100% vegan, women-owned, and made with thoughtful, waste-free packaging.
Jewelry & Handbags
There's never been a cuter way to wear your love of plants on your sleeve – or ears or necks, with Plant Posse's whimsical, adorable plant-y jewelry. Cucumber or avocado dangly earrings anyone? With each purchase, they donate to animal and human rights focused charities.
via Mishakaudi
For someone special in your life, show them how much you care with a gorgeous piece of fine jewelry from Mishakaudi; like a layering necklace, simple, boho gold rings, earrings, or more. All items are made without any animal products.
via Melie Bianco
Luxury can be affordable, and it can definitely be vegan. If you're looking for an extra special vegan Valentine's day gift, check out the gorgeous bags from California-based Melia Bianco, crafters of all 100% vegan bags that are beloved by the likes of Vogue and Marie Claire. 
Sweet Treats and Desserts
via SJAAK's

A wise man once said life is like a box of chocolates – you never know what you're going to get. In this case though, you know exactly what you're signing up for; the most delicious, can't-believe-this-is-vegan assortment of box of chocolates (we like this "melt my heart" dark chocolate melty truffles box) from one of our favorite non-dairy chocolatiers. Add to cart for sure – and maybe get a second one for yourself. 
via Golde
We're obsessed with this plant-based turmeric latte powder that makes each morning feel a little luxe and special (it's also great as a wind-down comforting drink before bed.) This rivals any pricy coffee shop drink, and is vegan plus packed with powerhouse superfoods.
You might know Melissa of Baked by Melissa from her recent TikTok fame, but she's been a longtime favorite in the baked goods world and creates the most delicious treats like cupcakes, macarons, and these vegan cupcakes. It's the perfect way to say I love you with 24 mini cupcakes in flavors like vegan triple chocolate, maple cinnamon, and dark chocolate coconut.
Pick this up if you're shopping for a group of friends or kiddos and want a little something special to make their day. No Whey! skips the dairy but always delivers when it comes to holiday-themed chocolates. They're a must to check out for vegan Valentine's gifts.
via Foxship
If this is your first time ordering Foxship Bakery cookies, trust us, it won't be your last (speaking from personal experience.) Foxship makes some of the thickest, most addictive vegan cookies we've ever had, and a bundle of their flavors makes the perfect vegan Valentine's day gift for literally anyone or yourself. They're also woman-owned, and ship nationwide!
Might we suggest our chocolate lover's combo pack of vegan sorbet? It's the perfect vegan Valentine's Day gift for the sweet treat lover in your life (gluten-free and lower cal than most sweet treats, to boot.) Use code FREESHIPPINGVIP for free shipping on your order, and treat yourself to one too.

Have a Sweet and Love-Filled Vegan Valentine's Day
Here's to showing love and appreciating everyone in your life, not just with these vegan Valentine's gifts but with little daily acts of kindness and love. (And don't forget to show yourself that love, 365 days a year.)

Wishing you a delicious and love-filled Valentines day, and sending oodles of love from the SorBabes team!