We all scream for...anything cool, delicious, and refreshing when the summertime temps hit. Enter, these refreshing frozen summer sorbet recipes you'll want to keep the freezer stocked with and enjoy on repeat all summer long. 

Whether you have an ice cream store around the corner from you or not, you can whip up easy, refreshing, cooling treats right at home without any fancy equipment or ingredients with these simple summer sorbet recipes you can make tonight.

Naturally devoid of any dairy, milk, or heavy creams or butter, sorbet is the perfect refreshing, light-yet-creamy frozen treat to scoop up and enjoy poolside or after dinnertime. Bonus: you can make these summer sorbet recipes using just about any seasonal fruit you're craving, from watermelon to strawberries or cantaloupe.  Because as we all know, the best fruit is the fruit in season.
What is Frozen Fruit Sorbet and How Do you Make It? 
Sorbet - we love it so much, we created a whole brand off the concept of reinventing the classic refreshing treat.
Back in 2012, our co-founder Nicole Cardone stopped by a farmer's market that was giving out bags of overripe peaches at the end of the day. She schlepped a bag home to her NYC apartment where she whipped up a refreshing juicy peach sorbet with bites of cookie crumbles and chocolate swirled in. What started as scoopable pints of sorbet we sold at a farmer's market turned into the creamy novelty pops you know today. At the core of our business though is creating delicious, unexpected flavors of frozen treats that spark joy.
Traditionally, sorbet is totally vegan and made with fruit, but also often loaded with tons of sugar and has a somewhat icy, palate cleanser consistency. We know though, from a decade of experimenting and perfecting our formulas, sorbet can be creamy and indulgent. If that's what you're after - just click over to our shop!
If you want quick and easy summer sorbet recipes you can whip up at home, keep reading! Just know these recipes may run a little more icy and less creamy than the sorbet-inspired treats you're used to at SorBabes.
Curious the difference between sorbet, ice cream, sherbet, gelato, and the like? It's not just you. The differences between sorbet vs. sherbet are commonly confused and the frozen treat terms can be used interchangeably - but they're actually very very different treats. Read our super simple breakdown here of the difference between the frozen desserts.

Store-bought sorbets are often made with fancy machinery and loaded with sweeteners, but what we love about these cooling summer sorbet recipes is you won't need a fancy machine - just a freezer and a food process or blender, and fruit you can find at the grocery store - and zero icky additives or artificial sugars. 

Let's head to the kitchen!
The Health Benefits of Eating Frozen Fruit Sorbet

If you're watching your sugar intake or calorie count, or want a dessert you don't have to feel guilty about (though we're big believes that no dessert should bring you anything but joy! Life's too short to feel guilt about having a sweet treat, regardless of the nutrition label.)
That aside, we know many are watching what they eat or just want a healthier treat - and these summer sorbet recipes fit the bill perfectly. Plus, we all know fruit is loaded with beneficial antioxidants and a smorgasbord of vitamins like vitamin C and A and B.
So while we can't officially claim dessert as a health food, having these summer sorbets is as close as it gets. You're welcome!

Here are our favorite summer sorbet recipes to bookmark and try out.
Strawberry + lemon = a flavor so nice, we made a SorBabes flavor of it! Though now retired (if you loved and miss our Strawberry Lemon bars, try Mango Coconut for a similarly bright, refreshing, zingy treat!) we still have a place in our hearts for this flavor combo. Whip up this refreshing treat for a perfect summer sorbet to enjoy in the yard with friends or for a post-dinner treat.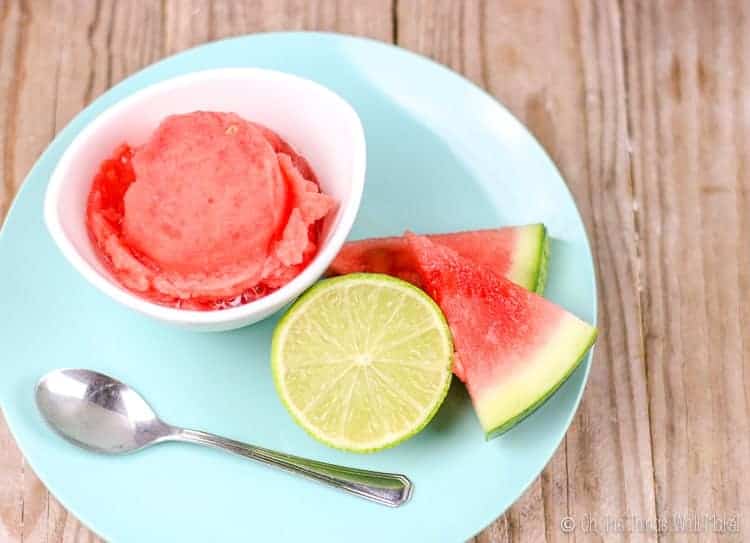 by thethingswemake.com
Far easier to make than a true, typical sorbet - this is essentially just freezing chunks of sweet melon and blending them into a frozen frosty treat, made for enjoying by the pool on a summer afternoon. A splash of lime juice is the perfect tangy accompaniment to the sweet watermelon. Or, add creamy coconut milk for more of an ice-cream-like treat.
by NoChefRequired.com
Is it really summer without fresh juicy peaches? We'd argue not. We love peaches and created our very-first-ever "SorBabes" flavor, before it was even SorBabes, with ripe juicy peaches, so this simple peach summer sorbet recipe just feels like home - and sweet, sweet summer. "Strictly NOT TRICKY AT ALL," this recipe needs no fancy equipment or ingredients - but make sure you grab the freshest, ripest local peaches for a truly glorious, juicy summertime treat. 
by asweetpeachef.com
With its subtle sweet flavor and naturally soft, creamy texture, canteloupe is just waiting to be made into a refreshing treat. This will quickly become a favorite summer sorbet recipe to keep on hand. All you'll need is a fresh canteloupe, honey, lemon, and a little patience - and it'll be worth it.
Don't Forget the Sorbet-Inspired Bars
No freezer is complete or summertime-ready without an assortment of our novelty frozen fruit bars, perfect for grabbing when the craving strikes or handing out to the kids when they get home from a long pool day or need to cool off after playing in the sprinkler. 

While we have a sweet spot for all our flavors, we'd recommend picking up a combo pack of our tropical-inspired, refreshing, fruit-forward pops that'll whisk you off to an island resort as the temps heat up.
We're keeping our freezers stocked with this 4-box combo fruity pack of Strawberry Crisp and Mango Coconut Crunch bars (feeling a little chocolately? Grab our best-selling combo pack of our top selling flavors, for a flavor-explosion of fruity and chocolate goodness.)