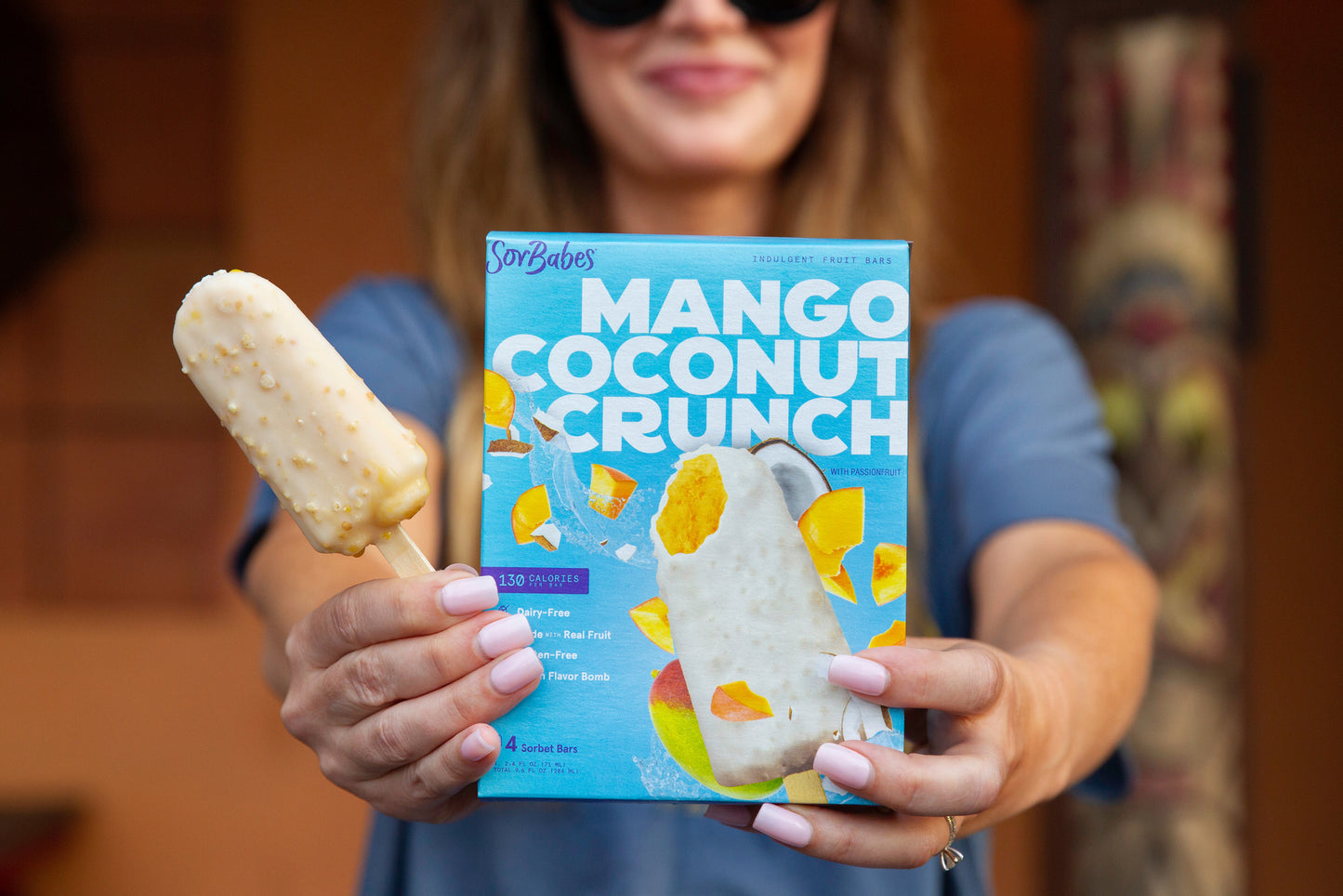 It's summertime, the living is easy, and mango dessert recipes are calling our name as we try anything to keep cool.
If you're with us, read on -- we have the easiest vegan summer dessert recipes using our Mango Coconut Crunch bars and fresh mangoes, so whether you're feeling like getting a little crafty in the kitchen or definitely not even turning on the oven, we've got you covered. 

Why Mango Desserts are So Perfect for Summer

Summertime: for us that means, time by the water, lazy afternoons in the sun, and fresh fruit that hydrates and keeps us feeling cool and tropical. Which is why there's nothing that hits like a cool mango dessert as the temps rise.
Many hot-weather climates and cultures traditionally feature mango as a dessert ingredient. India is the world's #1 producer of mangos, and they're often grown and used heavily in Mexico, Brazil, Eduador, Peru, and Guatemala. They're ubiquitous with summertime and also packed with good-for-you nutrients and minerals like vitamin C, A, B5, iron, and more. 
Plus, have you ever laid in the sun eating cool, fresh, juicy mango? There's just nothing better than a mango dessert - or mango all on its own - in the warm months. 
If fresh mango season is winding down where you are - frozen works just as well in some of these recipes. Frozen mango is not only easier to find, cook with, and use, since we all have staying cool on the top of our priority list, it just makes sense. 
Our Favorite Easy Vegan Mango Desserts to Make this Summer
Convinced and craving the flavor of fresh mango yet? Same.
Here are some of our favorite easy mango dessert recipes you'll want to keep on repeat all summer long. Several feature our Mango Coconut Crunch SorBabes bars and are so easy, it's a stretch to call them a dessert recipe at all, they whip up so quick.
A couple are a little more involved for when you don't mind getting in the kitchen and/or cranking up the oven (will be worth it, we promise!) 
Let's get after it with these delish, refreshing mango dessert recipes for summer.
1. Easy Mango Coconut Crunch Frozen Fruit Pops with Tajin

Let's start off nice and easy with this incredibly addictive frozen mango dessert you won't be able to get enough of this summer.
Mango + spicy sweet tajin is a well known match made in heaven, but the frozen mango bars take it up a notch, and cools things wayyy down.
(Pstt - did you know the easy way to keep bars frozen all summer long even in the heat? Dry ice! Here's how to make a cooler for transporting your summer SorBabes treats to the pool, beach, or wherever summer takes you!)

2.  Easy Baked Mango Bars
You've probably had a lemon bar, but swapping in mango is easy, delicious, and really summer-izes the classic dessert. So easy a ten year old could make it - and did in fact -- Nicole's daughter and mini sous chef!
If you can handle turning on the oven, you can make this mango dessert recipe. And it'll be well worth it!

GET RECIPE HERE
3. Super Simple Mango Fruit Roll-Ups

This mango dessert recipe is the stuff of childhood and nostalgia and truly couldn't be easier or yummier (it for real almost broke the internet when we first shared the recipe - if it can even be called that!) You may want to triple this recipe - it doesn't last long in founder Nicole's house.
Click the link to get the step by step directions for this vegan and incredibly simple mango dessert slash snack.
4, Mango Coconut SorBabes Margarita
Is it technically a mango dessert recipe? Unclear. Do we care? We don't. This mango margarita is delicious, frosty, slushy, boozy, and everything summer dreams are made of - and also features an easy peasy base of one SorBabes Mango Coconut crunch bar, for an incredibly tropical twist on a classic marg - no sugary, artificial mixer in here! 


Bonus Recipe - For When You Just Want to Enjoy a Juicy Mango, No Cooking Required!


We couldn't help but add on on this genius hack co-founder Nicole learned, and used on her own backyard mangoes. It just doesn't get any better or simpler than this! All you need is a straw, a mango, and a knife. Take it to the pool or on your hot girl summer walks to really elevate the every day into a tropical experience.
Cheers to mango desserts and summertime!