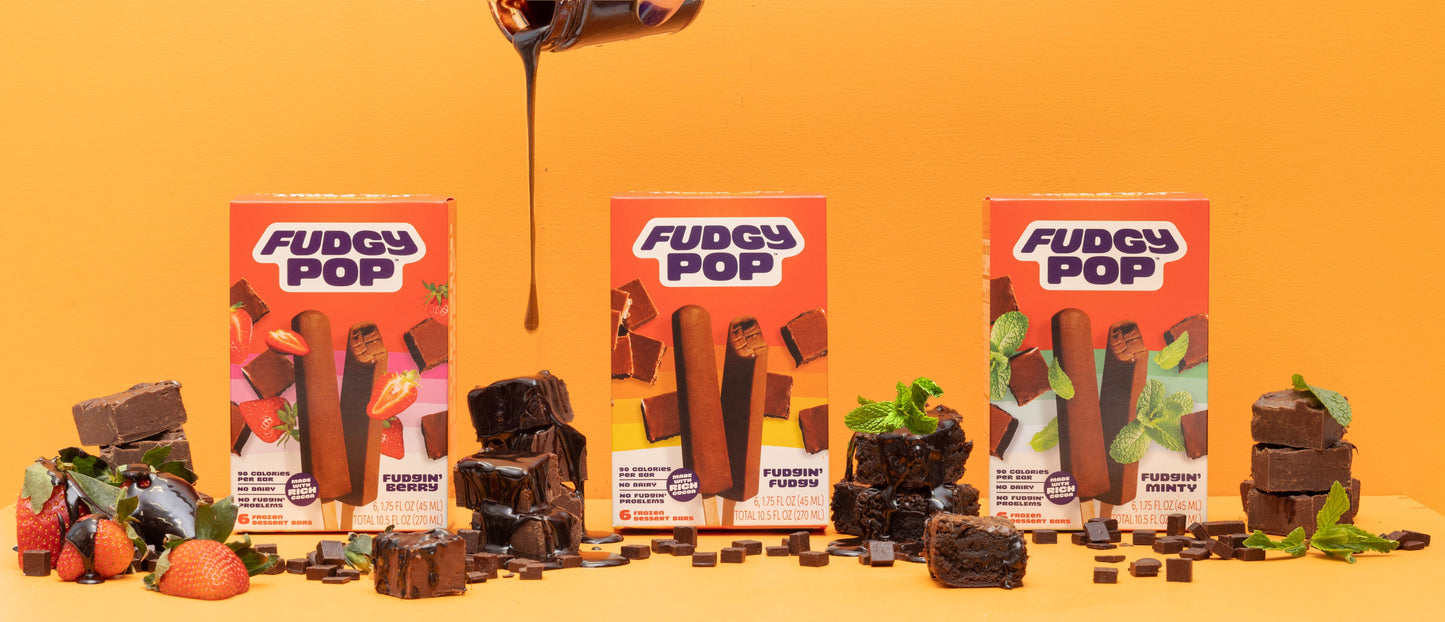 Warning: It's about to get fudgy! In a first for us after ten years in business, we are so excited to announce the launch of our second, brand new brand - Fudgy Pop!
We couldn't be more excited to introduce you to our second baby.
After spending the last decade growing our business from farmer's market stands to major national retailers, rebranding, surviving a pandemic, pivoting from pints to pops and so many wild ups and downs, we were ready, at last, to lean into our lifelong love of chocolate.
Fudgy Pop is the first incredibly rich, vegan, frozen fudge bar like the ones we loved as kids, but all grown up with gourmet chocolate and a clean label. 
 Fudgy Pop is the result of years of dreams and hard work, and we're thrilled you can find this reinvented, rich fudge pop now shipping out from FudgyPop.com to your doorstep (with free, nationwide shipping!) and in select Los Angeles grocery stores like Pavilions, coming soon to Gelson's and Nugget, and others soon!

What is Fudgy Pop?


Simply put, Fudgy Pop is the decadent, incredibly rich frozen fudge pop we were craving but didn't see on shelves. Inspired by the fudge bars from our childhood, but better - with an all vegan, gluten-free label, simple, plant-based ingredients, and only 90 calories per pop.
When creating our frozen fudge bars, we were inspired by the nostalgic treat we all grew up on, but craving a clean, conscious label for the grown up in us, The final fudgy result? An incredibly rich vegan fudge bar made for the serious chocolate lover and the kids at heart, those of us nostalgic for simpler times and fudgy flavors from childhood. 

How Does Fudgy Pop Compare to Traditional Fudge Bars?

 Like most of us, we had fond childhood memories of cooling off with a creamy fudge pop after an afternoon at the pool or in the slip n slide. But when we tried grocery store brand fudge pops again as adults, we realized they weren't as creamy or satisfying as we remembered. And when we looked at the nutrition label and ingredient list - yikes. Fudge pops we loved as kids didn't exactly live up to our grown up tastebuds or sensibilities when it comes to nutrition and ingredients. 

Inspired by this love of fudgy flavor and desire to make something better, we started testing the first iterations of fudgy pop, created by our co-founder and professional chef, Deborah Gorman!
It was a tough job, but we taste tested our way through many rounds and updates until we nailed the richest, chunkiest, fudge texture, made with only plant-based, gluten-free ingredients for our grown up stomachs.
"Fudgy Pop is a reinvention of the ice cream truck classic made for the modern consumer", says co-founder and professionally trained chef Deborah Gorman.

Co-founder Nicole Cardone continues, "we were craving a true fudgy chocolate experience and realized the ice cream truck fudge pops of the 90s were due for an upgrade. We don't think anyone should have to settle for icy treats from deacdes past, and we knew it was time for an updated, melt-in-you-mouth fudge pop with a label everyone can feel good about!"  
After perfecting the recipe, we knew the ice cream truck version from our youth could never. Fudgy Pop is richer, creamier and with a mousse-like texture than the OG fudge bars. No icy bars or bland flavor here.

What Ingredients are In Fudgy Pop? What About Calorie Count?
Fudgy Pop proves you can have the simple joys and flavors of childhood, minus all the icky artificial everything, dairy, and gluten our grown up stomachs no longer love. 
Have seconds - no need to ask permission, with only 90 calories to a pop! And because good old fashioned fudge is great but we're always here to bring the flavor, we created fudge pop flavors with our favorite chocolate pairings - a chocolate-berry flavor, and a chocolate-mint flavor. 

Each flavor, Fudgin' Fudgy (the OG, with rich, mousse-y fudge and a hint of vanilla,) Fudgin' Berry (sweet fresh berries swirled through rich fudge,) and Fudgin' Minty (refreshing mint + chocolate fudge) is made with less than 10 ingredients, all real, recognizable, and plant-based, like coconut oil, rich Guittard cocoa, sea salt, vegan sugar, and not much else. 

Check out each flavor's full nutrition label by clicking the links above.
We're already dreaming up the next round of fudgy flavors, so let us know what we should make next!


Where to Find Fudgy Pop

Fudgy Pop is shipping nationwide (with free shipping, always!) to your doorstep - order from FudgyPop.com and apply code SIMPLEJOY at checkout for $10 off your order! Choose from a combo pack of multiple flavors, or grab a single flavor pack in 4 or 6 boxes. (Each box contains 6 pops.)

Enjoy! We can't wait to hear what you think of our cool little sister brand!